Pentecost Sunday recalls the story of the disciples gathered and the Holy Spirit descending, not in the form of a dove as we see at the baptism of Jesus, but as tongues of fire. This flame alights on the heads of the disciples and they begin to proclaim the good news of liberation in a way that every person there understands.
The Holy Spirit is the outrush of breath from the Divine heralding the coming of the Kingdom. All of us have access to this divine connection as part of our natural condition. If we allow ourselves to be moved by the sacred breath and to become, in our own flesh, the utterance of the Name – great things are possible. We see the fire of God in the eyes of everyone around us, we are lifted into the Kingdom and liberated into its radical state of freedom.
Which all sounds very grand, but this journey begins very simply by making time each day to sit in stillness, and practice drawing attention to your breath. Allow your awareness to sit like a feather on the breath and for a few minutes, lighten your load. When you arise, you may find yourself looking at a different, bright, freer world, peopled by your brothers and sisters and lit from within by joy.
Last week, the plan was to celebrate the Eastern Rite Eucharist, but a perfect storm of things went wrong and so we kept the service simple. So, this week it's all systems go. Come and see the AJC's most mysterious and ceremonial service.
Service – 6pm
The service this Sunday will be an "Eastern Rite Eucharist". Modelled on the style of service celebrated in Eastern churches like the Greek or Syrian Orthodox, the service is ceremonial and contemplative. It features silent prayer and chant and the sharing of the Body and the Blood in the form of bread and wine.
Sophia Café – 7pm
Sophia Café follows the service – stay around for tea, snacks and conversation. Each week starts with a short talk by someone from the community followed by open discussion.
This week we will discuss the components of the Eucharist, based on the experience of the service we've just had.
Presenter: Father Tim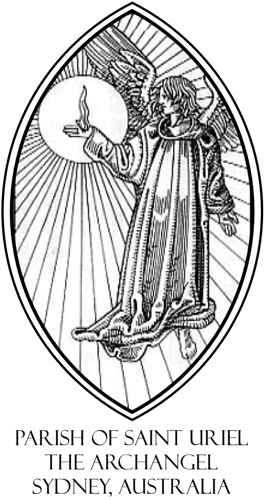 The congregation at St Uriel's meets every Sunday at 6pm at:
The Unitarian Centre
15 Francis St
Darlinghurst, NSW
Map
Rector: Father Tim Mansfield
email blog

Apostolic Johannite Church