Sisters and Brothers,
Sunday services will be a little patchy between now and January, so I wanted to let you know what I'm planning, starting with this Sunday.
Sun 29 Nov
This Sunday I'm running a full day on Centering Prayer in Camperdown finishing with a Eucharist service.

If you'd like to come to this, there is still time to book at the event web page
As a consequence, there will be no service at Francis St on Sunday evening.
Sun 6 Dec
The following week, I will be attending the Parliament of the World's Religions in Melbourne and so there will be no service that Sunday.
Sun 13 Dec
There will be a Sophianic Eucharist at 15 Francis St as usual.
Sun 20 Dec
We have been invited to join with the Unitarian Church for lunch and the Builders of the Adytum for a Christmas service and supper. I will not be celebrating a Eucharist on this day, but I will be at 15 Francis St all day and I encourage you to come and join in.
10.30am Unitarian Candle Service with music
11.30am Unitarian's Xmas lunch – all welcome
1.30pm   Any St Uriel's members welcome to join me for a beer and a chat or a wander through the parks.
6pm        Back to 15 Francis St to help BOTA set up for their service
7pm        BOTA Kabbalistic Summer Solstice Service
7.45pm   Supper with BOTA folks
All in all a fun day. If you've got time to come to any of that I'd love company and a chance to see you before you head off for the season.
Thu 24 Dec
Saint Uriel's Xmas Eve
For any people still in Sydney, I'd like to hold an evening service around 7pm followed by a potluck supper. If you'll been around and you'd like to come, please drop me an email.
This will be a home service somewhere in the Inner West.
And from then, we will be taking a break until mid-January when people are back from holidays. I'll send an email to let you know when things are started up again.
I hope to see you over the next month, but if we don't meet each other before the Festival of the Incarnation, may you have a blessed and safe Christmas and may you notice the Divine dropping you a sly wink from in amongst all the glittery tat of Xmas.
With love,
Tim+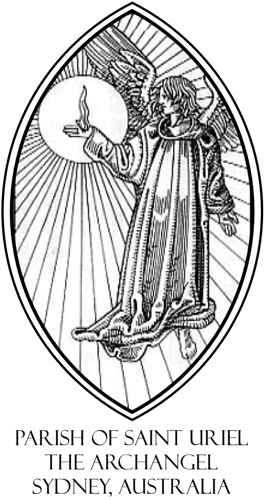 The congregation at St Uriel's meets on Sundays at 6pm at:
The Unitarian Centre
15 Francis St
Darlinghurst, NSW
Map
Rector: Father Tim Mansfield
email blog

Apostolic Johannite Church