Father Tim will be out of town this week, so we will not have the usual Eucharist service at St Uriel's this Sunday night.
Instead, inspired by the commemoration of the Assumption of Sophia celebrated last week, Trish is proposing to run a discussion group this Sunday, starting at 6pm, to take the time to delve more deeply into the different forms that Sophia's story takes in the Gnostic texts found at Nag Hammadi.
We'll start by reading a light chapter by Stephan A. Hoeller, 'Sophia: Gnostic Archetype of Feminine Wisdom', and then browse through some passages from the Nag Hammadi library itself, including:
The Hypostasis of the Archons
On the Origin of the World
The Sophia of Jesus Christ
A Valentinian Exposition
… over tea and snacks.
The celebration of the Assumption of Sophia sees us look in the direction of the eternal light, and to begin to trace an understanding of Sophia's relationship to it. Come along and help us to figure out how and why the Assumption of Sophia into the heavenly realms might, at exactly the same time, imply an assumption of Sophia's presence, here amongst us, always with us, yet not always seen.
You are welcome to stay to take part in prayers of the Compline of the Order of St Esclarmonde, at 8pm. The prayers are simple to follow, and are a great way to calm and align the body and mind at the end of the day, including a brief meditation and repetition of some of the oldest prayers extant in our tradition.
We look forward to seeing you there.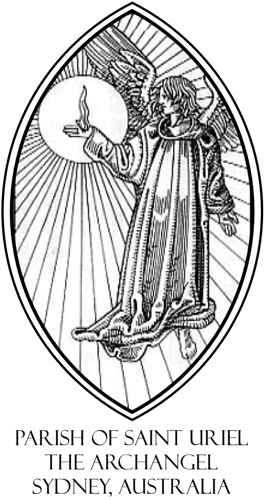 The congregation at St Uriel's meets every Sunday at 6pm at:
The Unitarian Centre
15 Francis St
Darlinghurst, NSW
Map
Rector: Father Tim Mansfield
email blog

Apostolic Johannite Church