As we prepare ourselves to enter the season of Lent, please consider yourself thoroughly invited to join with us this Sunday evening at 6:30pm, to take part in the liturgy of the Contemplative Eucharist at 15 Francis St, Darlinghurst.
The intent of the readings across these weeks that lead into Lent circle around the characteristics of the Holy Spirit, as encountered in both orthodox and heterodox scriptures, and indeed, in our own still moments, where we might attune closely to our senses, and realise more deeply the treasures of quiet contemplation.
Wisdom, sanctification and the purifying fire of love are the qualities which we are graced to witness in every encounter, in every breathing moment where we presence the divine energy of the Trinity, described in orthodoxy as the unity of the Father, Son and Holy Spirit, recognised perhaps as the hypostasis (unified essence) of the Invisible One, Christ and Barbelo in apocryphal sources, particularly in the Apocryphon of John.
As the readings call us to partake in the intermingling of Sophia, wisdom, with Barbelo, the first thought, so too are you deeply welcomed to come and share with us in the Contemplative Liturgy, led by Reverend Tim Mansfield, to renew and invigorate the subtle, still presences of each of these qualities that are indeed with us in every moment, every hour, every encounter, with each other.
Readings:
The Holy Spirit As Sanctifier
http://www.gnosis.org/ecclesia/lect023.htm
The Apocryphon of John
http://www.gnosis.org/naghamm/apocjn.html
Contemplative Eucharist – 6:30pm
The service this Sunday will be the Contemplative Liturgy, written by our very own Reverend Tim Mansfield. The service alternates engagement and stillness, provoking a meditative attitude and the cultivation of deeper perceptions. The service features prayer and contemplative practice, including a period of silent meditation, as well as sharing of the Body and the Blood, in the form of bread and wine.
We follow the service with some conversation, hot drinks and snacks. Please come along and join the discussions, sharing in fellowship and hospitality.
Trish Nowland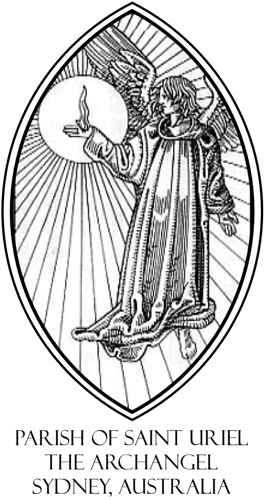 The congregation at St Uriel's meets on the fourth Sunday of the month at 6:30pm at:
The Unitarian Centre
15 Francis St
Darlinghurst, NSW
Rector: Father Tim Mansfield