The next two Sunday afternoons, with Ben Burke from Sydney Integral I'm co-sponsoring a movie and discussion. The movie is a discussion between Father Thomas Keating, a Trappist monk and one of the leaders of the Centering Prayer movement and Ken Wilber, the central intellectual figure in the Integral movement and author of books like "No Boundary" and "Integral Spirituality".
The topic is the future of Christianity and it covers some broad territory around different stages of spiritual maturity, the centrality of the contemplative traditions and prospects for the development of our tradition. These concerns are central to my own spiritual journey and I'm excited to have an opportunity to discuss them.
The film titles are:
"The Future of Christianity" with Father Thomas Keating and Ken Wilber
and next week:
"Divine Therapy" – with Father Thomas Keating, then a talk with Ken and Father Thomas on Spirituality and Religion.
The plan is to gather at the Unitarian Church at 3pm – watch the movie, have some time for discussion and then we'll celebrate our monthly chapel Eucharist service.
Come and join in on what promises to be an enlivening discussion!
Movie – 3pm
"The Future of Christianity" with Father Thomas Keating and Ken Wilber
Discussion – 5pm
Open discussion about the themes of the movie and people's own views about the evolution of Christian spirituality.
Service – 6:30pm
The service this Sunday will be a "Sophianic Eucharist". The service praises Sophia or Holy Wisdom as the immanent, feminine face of the Divine and celebrates the sacred marriage between the immanent and transcendent aspects of Spirit. The service features prayer and chant and the sharing of the Body and the Blood in the form of bread and wine.
Sophia Café – 7:30pm
Sophia Café follows the service – stay around for tea, snacks and conversation.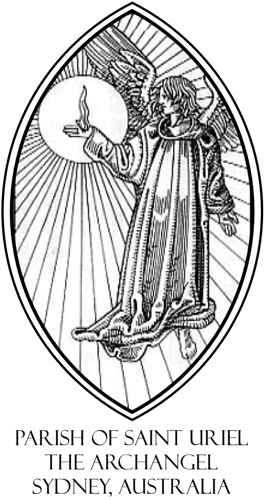 The congregation at St Uriel's meets on the fourth Sunday of the month at 6pm at:
The Unitarian Centre
15 Francis St
Darlinghurst, NSW
Map
Rector: Father Tim Mansfield
email blog

Apostolic Johannite Church