'If someone experiences Trust and Consciousness in the heart of the embrace,
they become a child of light.
If Someone does not receive these,
it is because they remain attached to what they know;
when they cease to be attached, they will be able to receive them.
Whoever receives this light in nakedness will no longer be recognizable;
none will be able to grasp them, none will be able to make them sad or miserable,
whether they are in this world, or have left it.
They already know the truth in images.
For them, this world has become another world,
and this Temple space [Aeon] is fullness [pleroma],
They are who they are. They are one.
Neither shadow nor night can hide them.'
~The Gospel of Philip
The above quote comes from the website for the Church of Gnosis, the spiritual home for the beloved episcopi vagantes (wandering bishop) of the post-modern global Gnostic communion, +Bishop Rosamonde Ikshvaku Miller. On January 19th, our greater ecclesia celebrates the consecration of +Tau Rosamonde, the first woman to be publicly ordained in the apostolic succession of the Ecclesia Gnostica, on this day in 1974.
Already consecrated as the seventh and last Marashin in the Holy Order of Miriam of Magdala in 1962, +Tau Rosamonde thus carries multiple lineages into the Church of Gnosis, which she sees as 'not an end, but a field of action'.
Certainly, the Ritual of the Bridal Chamber, a ritual composed by +Tau Rosamonde, reads as a deeply inspired, incredibly liberating liturgy, incorporating Lurianic Kabbalah, Hermetic invocation, and Christian tradition to become a beautiful blessing by which the Eucharist is celebrated as the mystery of the sacred marriage, of Word and Wisdom.
This Sunday 16th January at 6:30pm, in rememberance of the anniversary of the consecration of +Tau Rosamonde, Fr Tim Mansfield+ will lead us for the first time in the celebration of The Ritual of The Bridal Chamber at the Parish of St Uriels in Darlinghurst. Please come along and celebrate with us, as we unite together in prayer, liturgy and chant to realise the divine nature of the One, uniquely revealed through and within each and every sacred moment, each and every person.
References:
http://www.gnosticsanctuary.org/
http://www.hometemple.org/WanBishWeb%20Complete.pdf
The Ritual of The Bridal Chamber – 6:30pm
The Ritual of The Bridal Chamber is a service that will call your physical, subtle and spiritual self to presence the sacred marriage of word and wisdom in the form of eucharistic communion, enlivened with the rich beauty of prayer, chant and song written and composed by +Tau Rosamonde Ikshvaku Miller.
Please come and join us and stay for a cup of tea and snacks afterwards, and relax into Sunday evening discussion and company.
Trish Nowland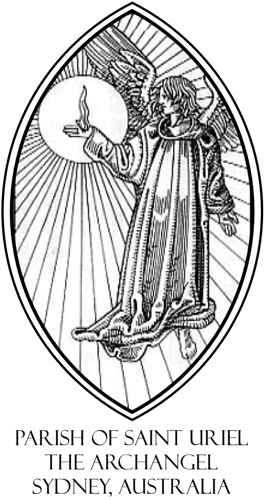 The congregation at St Uriel's meets on the fourth Sunday of the month at 6:30pm at:
The Unitarian Centre
15 Francis St
Darlinghurst, NSW
Rector: Father Tim Mansfield