Hi folks,
I've just returned from spending an inspiring week in Melbourne at the Parliament of the World's Religions – the largest interfaith gathering in the world. I had the opportunity to meet local and international people from a huge range of other religious groups, to practice explaining what the AJC is about and to hear about the core ideas, practices and beliefs of other religions.
Parliament was not just a huge encounter group for the religious, it hosted provocative sessions about groups working within and between traditions on social change: alleviating poverty, addressing indigenous disadvantage, creating sustainable communities and fostering peace. The Dalai Lama challenged all delegates to go home and use the energy we gathered over the week to create real change in our communities. As His Holiness said, "Good to talk, better to act!"
After such an inspiring week, I feel full of ideas about how to bring our work at St Uriel's into the world in more direct and useful ways. Johannite spirituality is by nature both contemplative and active in the same breath and I believe that our work needs to take a more radical, active, participatory turn over the next few months.
Watch this space – or better, let me know ways you might like to get involved – in social action, in deepening your spiritual practice, in sharing our spiritual tradition with those who might benefit from it.
The community meets on Sunday for the first service in a few weeks. Join us if you can withstand a mad priest raving about his crazy week in Melbourne amongst the other mad people!
My blessings on your journey.
Tim+
Service – 6pm
The service this Sunday will be a "Sophianic Eucharist". The service praises Sophia or Holy Wisdom as the immanent, feminine face of the Divine and celebrates the sacred marriage between the immanent and transcendent aspects of Spirit. The service features prayer and chant and the sharing of the Body and the Blood in the form of bread and wine.
Sophia Café – 7pm
Sophia Café follows the service – stay around for tea, snacks and conversation. Each week starts with a short talk by someone from the community followed by open discussion.
Topic: "Three Shapes of the First Thought" from the Nag Hammadi library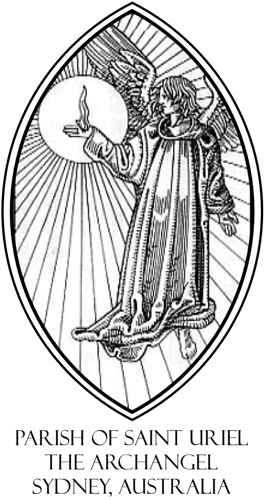 The congregation at St Uriel's meets every Sunday at 6pm at:
The Unitarian Centre
15 Francis St
Darlinghurst, NSW
Map
Rector: Father Tim Mansfield
email blog

Apostolic Johannite Church