Just a quick message this week. This is the final Sunday before Ascension Sunday. This sequence of weeks between Easter and Ascension involve recognising the nature of what you might call our "fortunate condition". I find it very easy to get wrapped up in how difficult ordinary life seems to be and sometimes the life of Spirit seems almost unattainable, spiritual practice seems all too hard, attending a service seems a chore.
This sequence of meditations:
the wealth of spirit
divine grace
divine protection
divine aid toward liberation
recognition of the human potential for liberation
… is intended to bring mind and heart into a space in which are able to recognise the level of assistance which we are provided. Liberation is not only possible, it is feasible and we have help, we need only to accept it.
You may find that contemplating and meditating on that sequence of five themes at any time in your life opens your heart into the possibility of freedom. What had seemed just too hard, can afterward seem effortless, pleasurable and essential. Try it!
Poimandres
This week's Sophia Cafe moves on to study and contemplation some of the source texts of our tradition. First, "Poimandres" from the Corpus Hermeticum. A luminous mystery text, Poimandres is beguiling and frustrating. Should be fun.
Eastern Rite Eucharist Next Week
Next week for Ascension Sunday, I plan to celebrate our Eastern Rite liturgy for the first time. So please consider planning ahead to attend. A deeply mysterious Eucharist, drawing more from the Byzantine and Syrian traditions than from the Roman liturgy with which most of us are familiar.
Service – 6pm
The service this Sunday will be a "Sophianic Eucharist". The service praises Sophia or Holy Wisdom as the immanent, feminine face of the Divine and celebrates the sacred marriage between the immanent and transcendent aspects of Spirit. The service features prayer and chant and the sharing of the Body and the Blood in the form of bread and wine.
Sophia Café – 7pm
Sophia Café follows the service – stay around for tea, snacks and conversation. Each week starts with a short talk by someone from the community followed by open discussion.
Topic: This week we explore the first text in the Corpus Hermeticum, "Poimandres".
Presenter: Father Tim Mansfield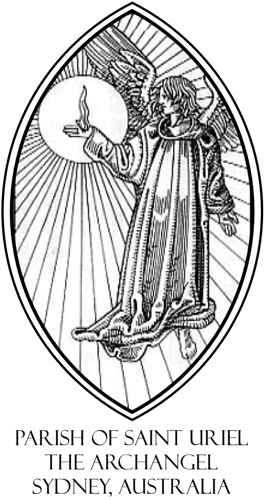 The congregation at St Uriel's meets on the fourth Sunday of the month at 6pm at:
The Unitarian Centre
15 Francis St
Darlinghurst, NSW
Map
Rector: Father Tim Mansfield
email blog

Apostolic Johannite Church