Sometimes I find I need to regroup and remind myself why I'm on the journey I'm on. Why would anyone in their right minds choose to be ordained a priest in a small church which doesn't have any parishes in their country and then devote a significant portion of their lives to building that church?
It's a puzzling choice. Why not just join a larger church?
A key reasons for me is that the AJC places the individual's journey to divine union in the centre of what "church" means. Everything the church does is about assisting, instructing, facilitating, fostering or advocating for your natural right to intimacy with the Divine Beloved. Every service, every healing unction, every blessing, every newsletter, every prayer, every workshop or retreat are all about creating a better environment for you to find within/without yourself the loving Ground, your natural home.
I can't pretend we always get it right or that we always choose the absolutely most effective method – but it is the core concern of every decision.
All that building of a healthy environment, though is just tilling and fertilising soil, filling watering cans, setting out scarecrows and arranging trellises and drainage. It won't grow grapes without the seed. All this is all very well, but it only makes sense with people prepared to walk the path.
Those individuals who are prepared to step beyond reading books about Gnosticism or about the path of contemplation; the heart of the church is those who make time every day to rest in the presence of God – through meditation, prayer or chant.
For me the word "faith" ought to mean what the intent for this week says, "steadfast dedication". Faithfulness in a spiritual context is the willingness to persevere even though it's difficult, there seems to be no time to meditate, our practice seems dry and produces no results, when not even sure there is a "Thou" hearing our call.
This kind of dedication takes time to build, it doesn't happen all at once. I'm part of the AJC because it's a church which understands that everything we do is motivated by helping people like you who are willing to build that steadfast dedication, that faithfulness in the service of your spiritual growth as you walk the path that takes you home.
You're always welcome to take some of the steps in your journey with us.
In closing, I wanted to tell you about a new endeavour we've started to help out a little. The
Wisdom Jesus Meetup
is a gathering of people interested in exploring more regular spiritual practice and building some dedication for doing it. We'll be gathering once a fortnight to share a simple meditation technique called "centering prayer" and some other helpful contemplative practices, to talk about how and why to establish a regular practice and to talk about our tradition from a wisdom perspective.
If you'd like to join us, then just register
here
and RSVP for the first Meetup.
I'd love to see you there, no matter how skilled or unskilled you think your practice is.
Tim+
Service – 6pm
The service this Sunday will be a "Sophianic Eucharist". The service praises Sophia or Holy Wisdom as the immanent, feminine face of the Divine and celebrates the sacred marriage between the immanent and transcendent aspects of Spirit. The service features prayer and chant and the sharing of the Body and the Blood in the form of bread and wine.
Sophia Café – 7pm
Sophia Café follows the service – stay around for tea, snacks and conversation. Each week starts with a short talk by someone from the community followed by open discussion.
Topic: Simon Magus by GRS Mead
Presenter: Lynette Watters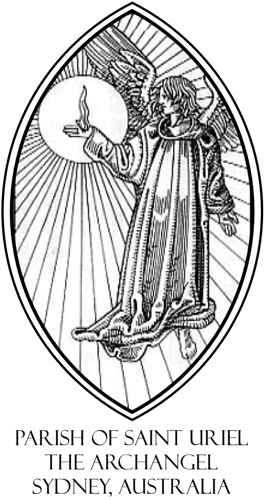 The congregation at St Uriel's meets every Sunday at 6pm at:
The Unitarian Centre
15 Francis St
Darlinghurst, NSW
Map
Rector: Father Tim Mansfield
email blog

Apostolic Johannite Church