I'm terribly sorry. I've just spent an hour writing a long, thoughtful meditation on the topic of wisdom (and Wisdom) for this week's newsletter only to lose it all in a crash and I'm out of time to write it all again.
So let me just give you this:
The mosque in Istanbul which, when the Emperor Justinian built it was called The Basilica of Holy Wisdom
The classic Sethian Gnostic text The Secret Book of John – scrolled down to "A Crisis that Became the World"
The line that Aleister Crowley gives to the Goddess Nuit in The Book of The Law, "I am divided for love's sake, for the chance of union".
The reminder that while scripture often tells about the process of creation or emanation, spiritual practice is always the practice of the path of return.
And trust that you can all think the same thoughts as I tried to write, all on your own.
Then let me invite you to share the Eucharist with me this Sunday, but also this week to take some time to locate your own deepest wisdom in the silent places of your heart and adore Her.
Service – 6pm
The service this Sunday will be a "Sophianic Eucharist". The service praises Sophia or Holy Wisdom as the immanent, feminine face of the Divine and celebrates the sacred marriage between the immanent and transcendent aspects of Spirit. The service features prayer and chant and the sharing of the Body and the Blood in the form of bread and wine.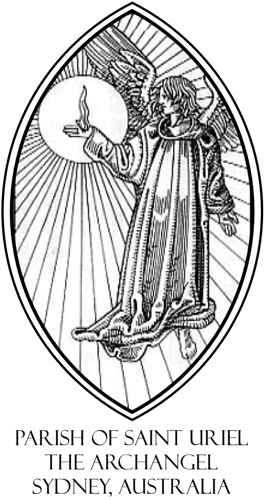 The congregation at St Uriel's meets every Sunday at 6pm at:
The Unitarian Centre
15 Francis St
Darlinghurst, NSW
Map
Rector: Father Tim Mansfield
email blog

Apostolic Johannite Church