The First Sunday after Easter (or "Low Sunday") is the beginning of the quiet period between the drama of Easter and and the excitement of Ascension and Pentecost. This short period commemorates the post-Resurrection teaching period of Jesus during which he gave some of his most direct and openly esoteric teaching.
The meditation themes for these weeks focus on appreciating the gifts of the Spirit in our lives. This is a period of spiritual ripening towards the maturity signalled by Pentecost when we are sent forth as "spiritual adults".
Service
The service this Sunday will be a "Sophianic Eucharist". The service praises Sophia or Holy Wisdom as the immanent, feminine face of the Divine and celebrates the sacred marriage between the immanent and transcendent aspects of Spirit. The service features prayer and chant and the sharing of the Body and the Blood in the form of bread and wine.
Sophia Café
Sophia Café follows the service – stay around for tea, snacks and conversation. Each week starts with a short talk by someone from the community followed by open discussion.
This week concludes our discussion of the esoteric understanding of the church's liturgical calendar – the period from St John's day to Christmas.
Presenter: Father Tim.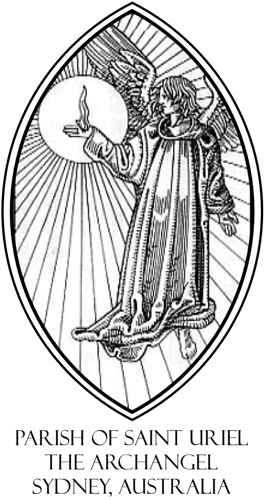 The congregation at St Uriel's meets every Sunday at 6pm at:
The Unitarian Centre
15 Francis St
Darlinghurst, NSW
Map
Rector: Father Tim Mansfield
email blog

Apostolic Johannite Church