This Sunday we remember Saint Gregory Palamas, that great Eastern contemplative and defender of experiential theology.
Certain saints after the Coming of Christ in the flesh see this light like an endless sea flowing miraculously from a single sun, which is the adored Body of Christ.

The Holy Name contains within itself that divine energy which penetrates and changes a man's heart when it is diffused throughout his body.
Saint Greg defended the contemplatives of the Eastern church from Roman charges of heresy. He advocated the view that the experience of Divine Light the monks experienced in meditation (a style of meditation called "hesychasm" or "quietness") was identical to the uncreated Light of God, the light which illuminated Jesus on Mount Tabor in the event known as the Transfiguration.
Though Palamas agreed that we cannot know God in His essence, His inmost being (and who can we know that way, after all?), we can know God in His energies – such as the Light experienced in Hesychasm.
His emphasis on direct experience, diligent spiritual practice and his constant return to the theme of Light as the wellspring of our original nature makes him a Saint beloved of Johannites everywhere.
We celebrate an Eastern Rite Eucharist in his honour this Sunday at the usual place and time.
Service – 6pm
The service this Sunday will be an "Eastern Rite Eucharist". Modelled on the style of service celebrated in Eastern churches like the Greek or Syrian Orthodox, the service is ceremonial and contemplative. It features silent prayer and chant and the sharing of the Body and the Blood in the form of bread and wine.
Sophia Café – 7pm
Sophia Café follows the service – stay around for tea, snacks and conversation. Each week focuses on reading and discussing an inspirational text.
This week: "The Three Shapes of the First Thought" from the Nag Hammadi Library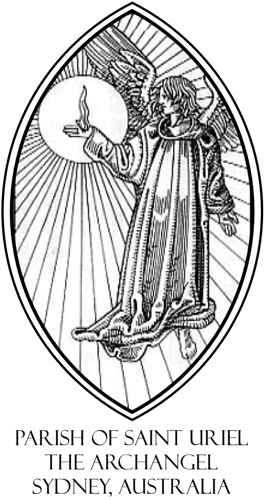 The congregation at St Uriel's meets every Sunday at 6pm at:
The Unitarian Centre
15 Francis St
Darlinghurst, NSW
Map
Rector: Father Tim Mansfield
email blog

Apostolic Johannite Church